Tiffany Montgomery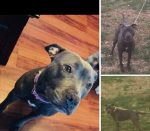 Our girl Dixie is still missing from Irvington Ky since 3-18-18….We are scared for her because of the breed she is (Blue Pit Bull) that some one has stolen her to fight or to breed…She is a family dog and don't have a mean bone in her body!!If you have seen her or know her whereabouts please contact Tiffany or Josh at 502-797-6582!!She is apart of our family and we will not give up on our girl Dixie's safe return!!!She is not chipped so this is our only hope of getting her back!!
I was around 11th and hill when I lost all signal and my drone went down. It should be within a one mile radius. Black carbon fiber racing drone, 210mm(5inch) body, green heat shrank antennas, black 3 blade propellers and a generic go pro like camera ziptied to the top. I have a reward broken or in one peice please email me.
Thanks
Tim
Do you know which shelter I can find these 2 dogs? It was posted by someone on Facebook that someone found them and took them to a Louisville shelter. One looks like my baby that was stolen over 5 years ago! Please help me find them so I can see if it is mine.
Indoor cat who got out Sunday night and got himself lost. He is very skittish and doesn't like most people. He doesn't do well outdoors. He is wearing a blue collar and answers to the name Dash. The picture is a couple years old so he looks older. He was lost right off Ellison on St Michael St. Please let me know if you see him. Thank you very much for your time.
In case my contact information didn't post correctly on my previous post… ndswin@icloud.com
My roommate and I were running some errands tonight when we saw this corgi and Doberman wandering the parking lot of Thornton's near the intersection of Taylorsville and Breckinridge. They ran across taylorsville road together before we rescued them and brought them home. No collars but they are clearly bonded and sweet as can be! The corgi is a male and Doberman is a girl. We are taking them to the shelter tomorrow to check for any microchips but please message if you know who they belong to!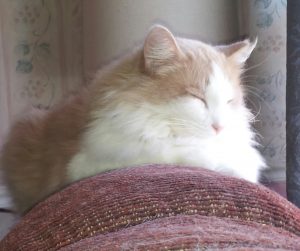 Butterball has been missing since January 7, 2018. He went outside to play and has not been seen since. He is blond and white, long haired, his left ear is tipped, and he has been neutered. He is a very special and loved member of our family. His mother brought him and his siblings to our door 5 yrs ago and they've been with us ever since. Butterball has "helped" me recover from 5 back surgeries so we have always been very close. Please, if anyone has seen him or knows where he may be, let me know! We only want to bring him home so our family will be complete once again!
Keys lost at Beckley Station Park on Jan 31 for Volvo.
Keys with Taurus emblem and UK sign with lucky penny in it