Lost a brown coach wrislet with everything in it including car keys. Was at baxters and cahoots. Niether places have found it. Please email christinaphichith@rocketmail.com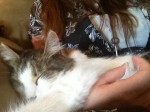 Lost cat!! He's a white long haired cat with dark grey on his head and back. Declawed and neutered. He's about 6 years old and has been missing since 10/25 from the jeffersontown area
Lost Boston Terrier 10/26/14. Black and white approximately 15 b female. VERY SWEET AND VERY MISSED! She has s black X tattoo on her stomach. Contact 5025105504
Lost Boston Terrier 10/26/14. Black and white approximately 15 b female. VERY SWEET AND VERY MISSED! She has s black X tattoo on her stomach. Contact 5025105504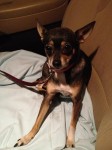 Found female chihuahua on Oct 26th, 2014 near intersection of Eastern Parkway and South Preston in Louisville, KY. Please email bmader87@gmail.com if you have any information on who the owner might be.
We have lost our pet! She is a medium size calico kitty by the name of Phoebe. She has been neutered, declawed and micro chipped. We live int St. Mathews on Warner and she slipped out yesterday afternoon. Please help bring her home! She is missed!!!! Please call or text 502-523-5400 or 502-741-9401. We will come and pick her up if you call ANY TIME!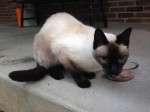 FOUND: Male, neutered Siamese, blue eyes. Found in Graymoor-Devondale on 10/19. About 4 years old, very skinny. No collar.
Grey tabby kitten found on Oct. 7 in Okolona area at an apartment complex. Contact email for further details: connect272003@gmail.com.
The keys were lost Saturday 10-18-14 after the football game possibly off of Boxley across from Papa Johns Stadium.
The key chain had multiple keys to include two Toyota car keys, also a red/burgundy State farm advertisement, and a Thortons discount card. any information please call 502-498-9689