We have lost our pet! She is a medium size calico kitty by the name of Phoebe. She has been neutered, declawed and micro chipped. We live int St. Mathews on Warner and she slipped out yesterday afternoon. Please help bring her home! She is missed!!!! Please call or text 502-523-5400 or 502-741-9401. We will come and pick her up if you call ANY TIME!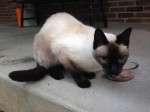 FOUND: Male, neutered Siamese, blue eyes. Found in Graymoor-Devondale on 10/19. About 4 years old, very skinny. No collar.
Grey tabby kitten found on Oct. 7 in Okolona area at an apartment complex. Contact email for further details: connect272003@gmail.com.
The keys were lost Saturday 10-18-14 after the football game possibly off of Boxley across from Papa Johns Stadium.
The key chain had multiple keys to include two Toyota car keys, also a red/burgundy State farm advertisement, and a Thortons discount card. any information please call 502-498-9689
Small black dog found late Oct 19 in Charlie Vettner Park/ Mary Dell Rd. Very sweet female. Call to identify 664-7227
Volvo electronic car key (plastic back missing) lost Sunday October 20 walking between Cherokee Rd and Willow on east side of Cherokee Pkwy. Very difficult and expensive to replace. Reward>email robinwiggins@hotmail.com or text or call 502-442-9740.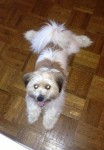 Small breed dog, male, long hair, white with tan spots. Found in downtown Louisville, Saturday, October 18 near Belle of Louisville. No tags or microchip. Call or text 502-544-7604 to identify.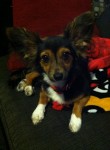 Please help Srappy come home, I have a heart broken little girl missing her pup. He is a male around 8 lbs. Black and brown with 4 white feet and big ears. Wearing ared collar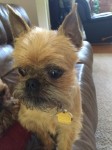 Lost East end brown Brussels with perky ears. Answers to Zane. Very shy and timid and scared by now. Tell him you have 'nudges' and he may come to you. Near Shelbyville Road.
On Fri. Oct. 3rd, 2014 a family friend let our Gizzy out the back door to go potty, they was not watching him and he must've ran off towards the neighborhood behind the house which is. Farm Gate, or first street right off glazer on. He is very sweet & friendly, mainly white with light brown/beige spots or area, he had also been recently groomed shaved, tail left bushy. REWARD please call me charmaine502-644-9019 or daughter Amber 502-608-5476