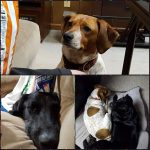 2 dogs escaped from yard at 2am when they were let out to use the restroom. 1 mixed breed female, beagle mix medium sized, Molly. Other mixed breed male, lab-ish-dor retriever, all black, larger than Molly, Pete. They are skittish around strangers – please be on the lookout for them and email me if found.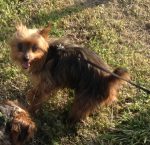 Lost mini dog. He is approx. 4 lbs. VERY LOVED AND MISSED. He has thin, wire hair colored golden tan face, feet/legs and belly w/ charcoal colored back. Looks like a mix between Chihuahua and Yorkie. His hair has bald spots as he got into something and we had to cut matts out. He was abused prior to coming to me so he is timid, shy, he gets scared easily and shakes a lot. He has big bug eyes and no upper teeth. He is DEEPLY missed and I will reward anyone who can put him in my hands. He became missing outside my home, when he got thru fence, due to his curious and excitable nature, off of West end Louisville, North 38th street/Bank Street area. PLEASE return him, was told a black car picked him up.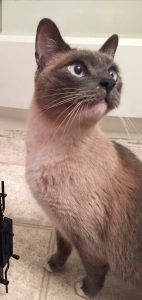 Found cat in the St. Matthews/Lyndon area. Siamese, blue eyes, very friendly. Owner will need to verify sex and provide proof of ownership.
I HAVE LOST 10 TO 15 KEY ON A KEY RING CANT SAY HOW LONG MAYBE A MONTH OR 2, HAD AT LEAST 3 OR4 HOUSE KEY CAR KEYS, LOCK KEYS IF FOUND PLEASE CONTACT. THANKS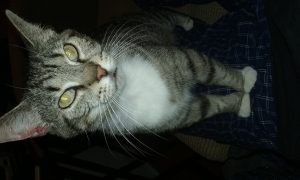 LOST MANX (NO TAIL) CAT, GREY TABBY WITH WHITE FEET AND CHEST. APPROX 7LBS AND 9 YEARS OLD. NEEDS HER MEDICINE. REWARD OFFERED!
Lost car key an button control some where around Dixie hwy
Lost car key an button control some where around Dixie hwy
Lost car key an button control some where around Dixie hwy
Lost car key an button control some where around Dixie hwy
Lost 2 year old gray domestic longhair mix cat with white markings and feet. Skittish and shy. Last seen on Fernwood and Bonnycastle Ave. on May 24th, 2017. If seen, please call (502)7974434 or (502)2964699