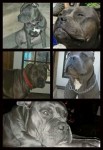 4th old blue pit around 100 pounds. Very large and sweet. Scared of strangers. Family pet and best friends with our autistic son. He was taken just a block away from Clarksville elementary in Clarksville indiana. There is a reward if found. Please contact 812-557-9648 with him or any information that may lead to his recovery. Thank you and God bless!
1 1/2 year old chihuahua pug mix ran off in the Hillview/Bullitt County area, please call 502-855-2659
Found lab in Hikes Point off Breckenridge Lane.
Found red sony cyber-shot camera after thunder
Put the man's chest tatoo in the subject line when you respond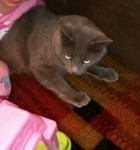 BABY BELLA IS A GREY/RUSSIAN BLUE. SHE IS WEARING A PINK COLAR AND HAS NO TAGS. SHE IS MICROCHPPED, DECLAWED, AND SPAYED WITH A TATTOO MARKING ON HER BELLY. SHE WAS LAST SEEN AT OUR HOME IN RIVER FOREST PATIO HOMES OFF TERRY ROAD. SHE DISAPPEARED ON 4/11/2014.
PLEASE CALL 502-889-6355 ASAP. OUR DAUGHTER IS REALLY DEVASTATED. WE MISS HER.
****REWARD****
Blue Razor Scooter chained to gate disappeared at Thunder!! Reward if found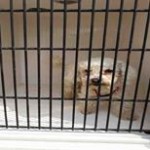 This DOG – ID#A523415
I am a male, white Bichon Frise.
The shelter staff think I am about 3 years old.
I have been at the shelter since Apr 11, 2014.
This information was refreshed 10 minutes ago and may not represent all of the animals at the Louisville Metro Animal Services.
For more information about this animal, call:
Louisville Metro Animal Services at (502) 361-1318
Ask for information about animal ID number A523415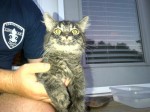 PLEASE help! Missing kitty since March 31st. I was spring cleaning with windows open Sunday March 30th and forgot to close a window in the spare bedroom. Monday March 31st I notice the window was still opened after I got off work. He has always been an indoor cat since he was a kitten. Please if you have ANY information about our missing kitty please call (502) 322-3588. We have another cat that has been missing her companion and my 3 year old daughter who keeps asking for her kitty. He is a male cat BUT may look female because he has been fixed and I think they either cut everything off or his balls never dropped so he might look like a female. Here is a couple photos of him. He is a fluffy tabby. He goes by the name Kitty or Titan and is VERY friendly. He is micro chipped but that does not help unless someone turns him in and scan him. Im willing to give reward. We just want our baby back.