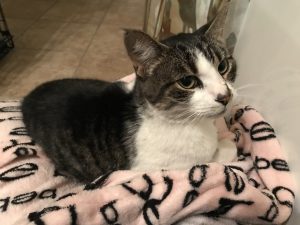 FOUND kitty. Searching for owners. She is a calico/tabby and was located off of Blankenbaker Parkway in an industrial parking lot. Location is within driving distance of Rehl road. No collar, no chip. Call me at 502-354-1079.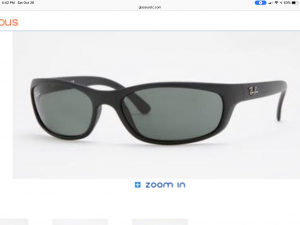 Lost a pair of Ray Ban 4115 wrap sunglasses at Seneca park during the high school regional cross country meet Saturday October 26 between 1230 and 330 pm.
Please contact me if found 330-304-3300.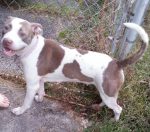 Please spread the word so we can find this pet's family! FOUND on October 11, 2019 in Shively, KY 40216 near Burrell Dr & Thistledawn Dr Shively, KY 40216
Description: Super friendly pit, white with brown spots. Pink collar with silver hearts, no tags. Looks like she's had babies, not sure how recently.
Do you have information? Contact finder here: https://www.pawboost.com/p/5800001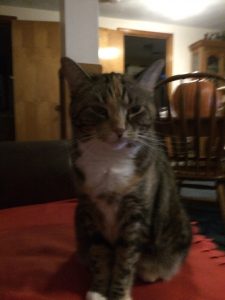 MISSING TABBY CAT
My cat, Annie, slipped out the door at about 2:00 am Sunday morning. She is a 7 year old stripped gray tabby who is shy around strangers. She is chipped. Please call if you see her. She hasn't been out of the house since I rescued her 6 years ago. 1032 Franelm Road 502-594-7324.
Found on trail in Tom Sawyer State park near Sawyer Hayes Center 9/8. Please contact to identify.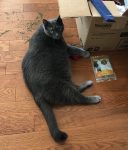 Please help us find our cat:
His name is Bernie, he is an older cat about 13 years old. weighs 19lbs. He is a Russian Blue (grey coat) has a red collar with 2 tags: green & red tags and a bell that jingles. He got out yesterday 9/4/19 and the nest cam picked up that he was attacked by 2 dogs around midnight on our porch. I am worried that he may be injured.
You can reach me at 703-579-7242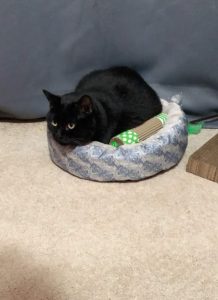 I am missing my baby boy Romeo. He was last seen Monday morning at my home on Deveron Drive in Shively, KY. He is fat, black, with green eyes, and a nub tail. He's very smart and friendly. I have a feeling someone has him in their home. I really need him to come home because I dearly miss him. I'm sick not knowing where he is. Please contact me if you know any info at all?! Thank you all!
Found pig in the Zelma Fields neighborhood off Beulah Church Road.
We are fostering the pig until its owner can be found. The closest vet to where piggy was found, Fegenbush Lane Clinic, has no record of any pigs but did scan for a microchip. Piggy is chipped, however the microchip was never registered so there is no record of the owner or the place of adoption/chipping.
Owner must identify pig. Please text if you know anyone missing a pig: Jessica @ 502-771-1778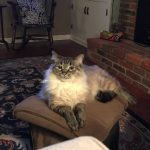 Louisville Manor Creek/Goose Creek area. Missing since 7/14/19. His name is Charlie and we miss him!
Momma Cat finally got hungry enough to wander into the garage last night. She's skinny but she's back home getting fattened up. Thanks to everyone who kept an eye out!