pet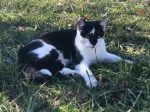 Lost Pet: 1/27/2020 near 18202 HWY 148 (18202 Finchville Rd.) running up railroad embankment toward Old Clark Station Road in Fisherville.
NAME: Dot
DESC: Black & White short fur, female, Bombay cat < 1 yr age
MARKINGS: Black mask on head and ears with white spot / triangle shape on forehead; white chin with black "goatee" spot; black tail
CONTACT: call or text Jeremy 502-727-6965
Thank you.