Has microchip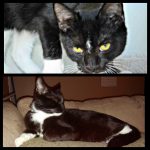 LOST CAT
REWARD
Have You Seen Sox?
Please Call Heather (502) 415-6528 or (502) 742-0947
My cat is 2 years old and is a domestic shorthair with a shiny coat. I would best describe him as the following… Domestic Short hair cat Tuxedo in color. White spot on nose in between eyes. White on his chin going down his neck and belly. White paws. Shaved part of side of body by belly from recent vet visit. Black on top of back and tail. Tuxedo type.
Last Seen Near: On 221 North Clifton Ave Apt 18 at 4pm and cross streets are Clifton Ave by Sycamore Ave in Louisville 40206. Has a Seresto Flea Collar on with 3 reflectors. Skiddish of new people.
Last seen in your area on 01/17/2017
If anyone has thinks that they have seen him anywhere give me a call anytime of the day or night!!
Heather Tinsley
Cell 502-415-6528
Home 502-742-0947