poodle toy black red harness brownhurst brownsboro chamberlain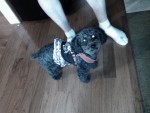 Around 9:00 PM on Monday March 2, Lilo, a toy-sized black poodle, ran away.
Lilo is completely black and wears a red harness. She has a microchip.
She is very small – about the size of a cat.
Lilo has never left home without a leash but on the night she disappeared, she ran out of the front door before I could stop her. She is not familiar with streets.
I appreciate any information that you can provide about a dog that fits this description.
John Mark Streble
10213 Brownhurst Ct.
Louisville, KY 40241
(502) 541-1654